Description
The 7Semi MLX90640 Thermal Camera IR Array Breakout with an impressive 110 degree field of view and an I2C interface! This high-quality thermal camera is the perfect solution for your temperature measurement needs, whether you're working on a research project or industrial application.
Featuring an array of 32 x 24 pixels, the MLX90640 provides accurate temperature readings at a distance of up to 7 meters. With its wide 110 degree field of view, you'll be able to capture a larger area in a single shot, reducing the need for multiple scans.
This thermal camera boasts an impressive -40C to 300C temperature range and a high accuracy of +-2C, allowing for precise temperature measurements in a variety of environments. The camera also comes equipped with an I2C interface, making it easy to integrate with your existing system.
In addition to its technical features, the MLX90640 is designed with ease of use in mind. It features a compact form factor and is easy to mount, making it a versatile tool for a range of applications. The camera also includes a breakout board for easy connectivity and comes with a comprehensive user manual to help you get started.
Key Features
Small size

Easy to integrate

Factory calibrated

3.3V/5V supply voltage
Current consumption less than 23mA
FOV -110x75 degree
Operating temperature -40C ÷ 85C
Target temperature -40C ÷ 300C

Noise Equivalent Temperature Difference (NETD) 0.1K RMS 1Hz refresh rate

I2C compatible digital interface

Programmable refresh rate 0.5Hz - 64Hz
STEMMA QT / Qwiic 4-pin 1mm Pitch White Female Connector Cable 150mm Long - Both Side can be purchased seperately.
MLX90640 Thermal Camera Breakout Captured Image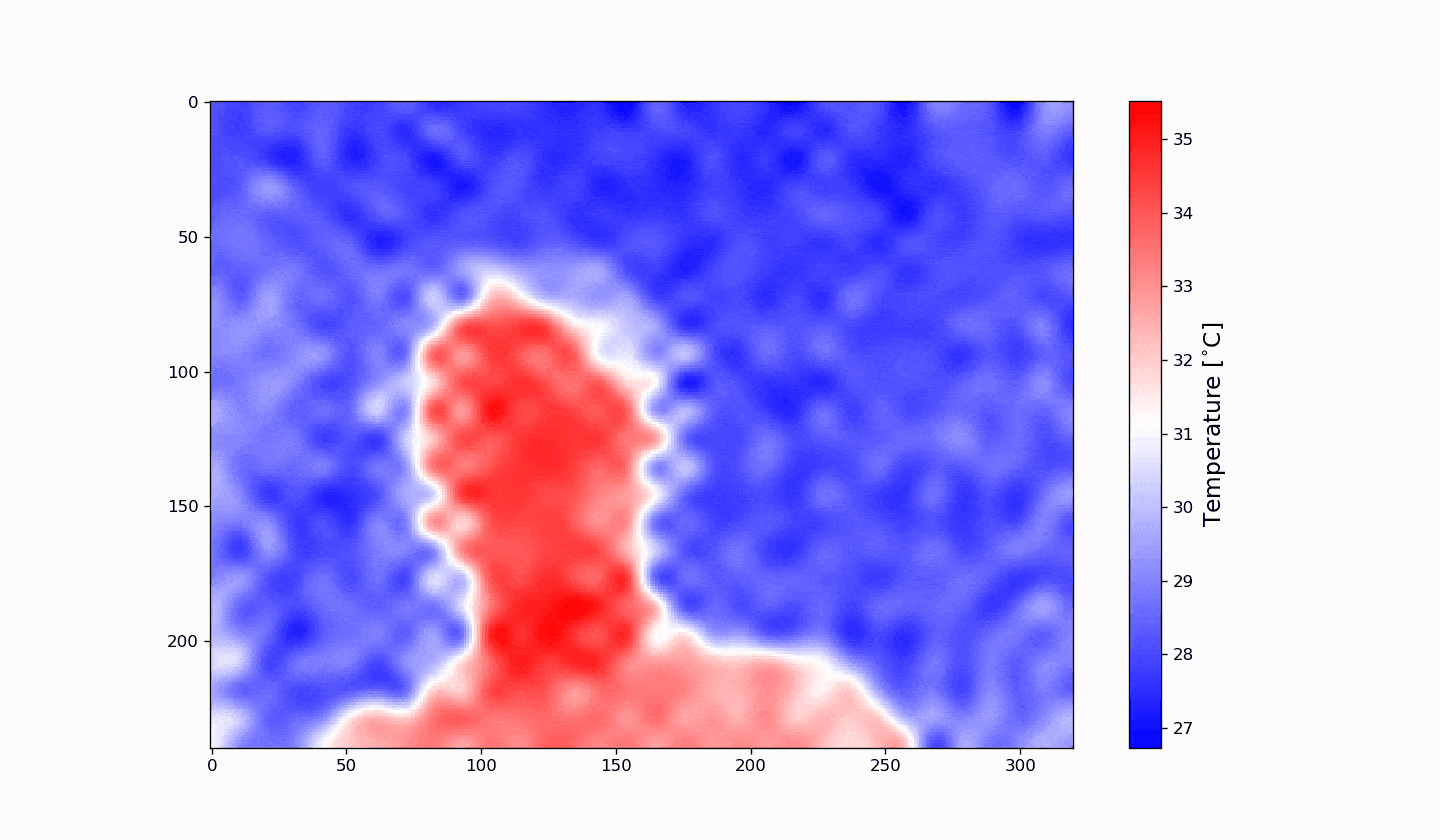 Dimensions
Connection with Raspberry PI
Raspberry PI pinouts
Resources
7Semi MLX90641 and MLX90640 Thermal Camera Breakout Comparison Table
Far infrared (IR) thermal sensor array 32x24 RES
People detection using far infrared (FIR) thermal sensor array
How field of view for infrared temperature sensors is determined
An IR thermal camera breakout is a device that allows the user to measure temperature by detecting and analyzing infrared radiation emitted by objects. This breakout board typically consists of a small camera module, a lens, and a processor that performs image processing to generate temperature readings. These temperature readings can be displayed on a screen or stored for later analysis. IR thermal camera breakouts are commonly used in a variety of applications, including building inspection, electrical engineering, and industrial monitoring. They are particularly useful for identifying hotspots or temperature gradients that might indicate potential problems or inefficiencies in a system. Overall, IR thermal camera breakouts provide an efficient and non-invasive method for measuring temperature, making them a valuable tool for many professionals.